"Best 2K I Ever Spent" Female Celebrities Sport Their Staches With Sex Appeal
There is no denying that mustaches have become a popular ironic look with the hipster set, but now it seems the trend has penetrated Hollywood. And it's not only the male stars who are forgoing the razor.  Ladies of the Silver Screen are donning false facial hair and making staches sexy.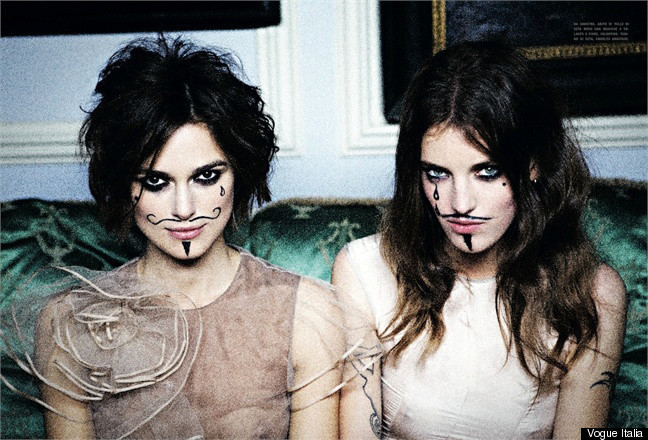 The latest to fake facial hair is Keira Knightley.  A fellow model and she don a pin thin theatrical style for the upcoming issue of Italian Vogue.  The tear adds a nice touch.
No one confused Sarah Silverman for Burt Reynold's during the 2009 Emmy's.  She still managed to look pretty and brought the look into the center of the elite film industry.
Kelly Osbourne went high fashion, channeling Charlie Chaplin for Betsy Johnson's runway show last year.  Paired with a puppy, she actually doesn't look that hairy.
Some celebs only bust out the fauxstache for special occasions. Janet, Miss Jackson if you're nasty, penciled one on for Halloween. Gangster chic.
Sandra used a strand of her own luscious brunette locks for the cover of EW.
And of course there are the ubiquitous 'Got Milk?" ads.  Jennifer Hudson, Sofia Vergara, Angie Harmon, Hayden Panettiere, Brooke Shields, and several other stars sported the look using dairy.
But try as they might, the ladies have a hard time looking authentic when it comes to getting a style that says, pervert, biker, artist, or plumber.  The best shots of female celebs with staches are always the ones that have been photoshopped. Poker Face never looked so good.
Indie Queen Zooey Deschanel, of course, looks perfect.
But the Queen of England still takes the mutton chops with this amazing photo.  Regal.  This would look great for William and Kate's big wedding.
Pretending is so much fun, it makes sense to take it to the next level and shave.  Jessica Simpson re-enacted Virna Lisi's '60's Esquire cover in 2008.
[Images Via, Via, Via Via, Via, Via, Via, Via, Via, Via, Via]