A gay in the city uses Chappy to find his Big.

Having lived in New York for almost ten years, I constantly go through many "Coulda. Shoulda. Wouldas" when looking back at my assembly line of dates past...
"Could I have been a bit (lot) more honest?"
"Should I have texted that guy back?"
"Would I ever find somebody?"
So many ups and downs and sideways (and frontways) in NYC dating can only make a guy feel like he's seen it all.
Until one day I came across a dating app named Chappy…

I first learned about Chappy (gays only, sorry girls) at their launch party a few months back after a more optimistic friend begged me to go —"It's a total game changer." Having tried almost every dating app there was, I was a bit more skeptical. A few drinks later and motivated by the handsome chaps around me, I finally gave in and gave it a download.
"Wait. this might actually be different."
I opened Chappy up and was greeted by a handsome guy sitting on a ledge. No women? Check. No headless torsos? Double-check.

Then came the fun part. After I linked my Facebook profile to prove I'm the guy I say that I am (adios, catfishers!), I got to decide what I was in the mood for with the Chappy sliding scale.
Was I feeling more Samantha? "Mr. Right Now" could help me there.
Was I was looking for something a bit more serious a la Charlotte and Miranda? "Mr. Right" could help me find the one.
Or, maybe, I was just channeling Carrie and had no clue what I wanted. "Mr. Who Knows" could keep my options open.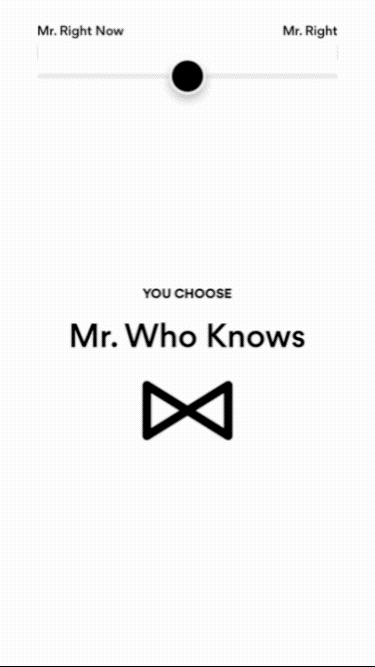 After two (very long) minutes of deliberation, I ended up going with Mr. Right Now. It was summer, and I was feeling thirsty... for a margarita, of course.
It Was Time To Swipe

I immediately noticed something —the guys weren't masking themselves. From doctors and lawyers to techies and artists of every color, shape, and size, real guys looking for the same thing suddenly appeared on my screen. Maybe this is what I needed!

Mr. (Margaritas) Right Now
My first match happened on my walk home from work. A few hours later, I found myself venturing out into Hell's Kitchen to meet my first Chappy date for a marg (win-win for me). From the first sip, I knew this was going to be very different from any other date I had been on. I felt oddly comfortable —I knew who I was about to meet and what he was looking for.
The Final Episode
Ok, so he wasn't my Big. Still, we got some good dates out of it and, to my surprise, I actually had a lot of fun (and it even got me to slide that scale over to Mr. Right).
As my good friend Carrie once said...
"Being single used to mean that nobody wanted you. Now it means you're pretty sexy and you're taking your time deciding how you want your life to be and who you want to spend it with."
Maybe she didn't have it, but I have a feeling Carrie would have loved Chappy (if she were a gay guy, of course). I know this one is hooked.
Give it a whirl and download Chappy here.But, please, leave some for the rest of us.